Frankincense essential oil has amazing skin renewing properties, add it to alcohol free witch hazel and you have a simple but effective homemade facial toner recipe.
You can use this recipe as an essential oil spray by adding it to a spray bottle for easy application, just spritz on your face after washing it. Alternatively, you can add to a glass bottle and use with a cotton ball.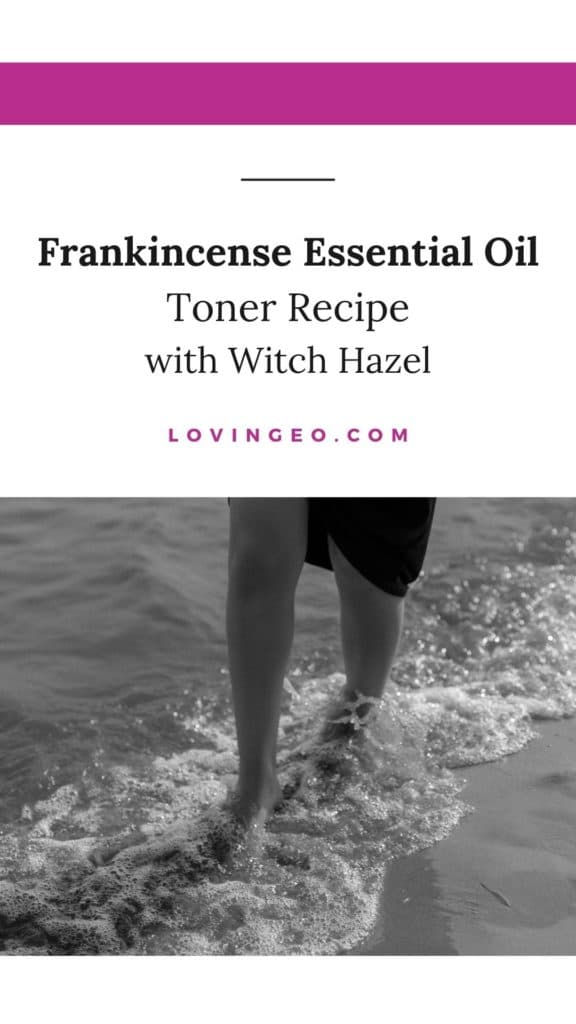 DIY Frankincense Essential Oil Toner with Witch Hazel
Here are the ingredients you will need for this essential oil blend:
5 drops Frankincense essential oil
1/4 cup Alcohol Free Witch Hazel
2 oz Glass Spray Bottle
How to Make Frankincense Essential Oil Toner
Here are the step to create the essential oil recipe:
Step 1: Gather ingredients for facial toner.
Step 2: Add witch hazel and essential oil to the spray bottle.
Step 3: Swirl the bottle to mix the ingredients together.
Step 4: Add spray top and label bottle with contents. Best to use within one month.
Step 5: To use, shake well and then spray on freshly cleaned face. Alternatively, you can spray on a cotton pad and then use on your face.
Essential Oil Substitutions
-You can substitute frankincense with lavender or geranium essential oil, both are great for skin as well.
-Use tea tree essential oil for acne prone skin.
-Enjoy the benefits of diffuser blends with frankincense to enhance your wellness.
Share on Pinterest